Professor Stanislas Dehaene, of the Collège de France, is a neuroscientist with a talent for designing and carrying out well-directed experiments, and communicating his findings clearly, but without over-simplification. His latest book, Apprendre – English title How We Learn – collates a wide range of evidence on the nature and development of the brain, and explores its implications for education, with a sub-plot examining the parallels between human and artificial intelligence. It is the most important scientific contribution to education since the recording of brain cells by the Spanish scientist Santiago Ramón y Cahal (Nobel Prize, 1906).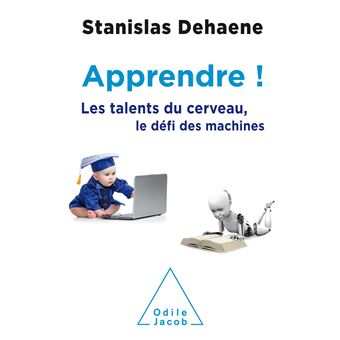 The brain scans of children learning to read are new and important. They show that, as we learn to read, the brain reorients itself, so that areas initially used for visual recognition, in his experiments, of faces, are recycled to recognise chains of letters, which they send to areas of the brain that process language. In this way a fluent reader handles written words in exactly the same way as spoken ones, and reads long words as quickly as short ones. The process requires attention to letters, and sets up a specialised circuit that deals with them. His scans show that if children are not taught to pay attention to letters, learning instead by whole word methods, they rely on a much more dispersed, and less efficient, series of areas of the brain when trying to read. Scans of children assessed as dyslexic are more worrying still, showing that the reading circuit has not developed, though Professor Dehaene is not in a position to say why this is so. Similar re-orientation of brain areas occurs for mathematics.
Scans of babies show that many of the most important brain structures, including what Professor Dehaene calls "the language motorways", are present at birth, leading him to endorse Chomsky's idea of the "language acquisition device". I had a sharp exchange of emails with Chomsky over the use of the term "device" to describe these structures, and still think that system or framework are better descriptions. However, there is no doubt of their existence, or that they finally disprove the idea of the "blank slate". Professor Dehaene similarly dismisses the idea of the "sponge". Children are actively involved in discrimination even before they can speak, as shown by an ingenious series of experiments showing what does and does not attract their attention, often by exciting surprise by doing something they don't expect. These early expectations are seen as a form of hypothesis – the child is constructing a view of the world, and has to adjust when something happens that they don't expect.
Analysis of the phonic systems of French and English shows that they require different adjustments in learning to read, both of which cause problems. In addition to learning the most frequent connections between sounds and letters, French children have to take account of the position of consonants, as they are often not pronounced at the end of a word to promote flow. Comparable passages in French and English show roughly four times as many silent letters in French, almost all at the ends of words. They have to make a further adjustment to take account of accents, which sometimes alter the pronunciation of a vowel, but in ê, î, û, à and ù do not. Finally, they need to learn the use of contractions, as in j'ai, j'aime, l'ami, to avoid the clash of voice sounds known as the glottal stop. French children learn these adjustments through continuous practice and daily dictations. A lesson I observed in Paris for 6-7 year olds used the sentence "Arthur n'a pas peur des fantômes". They cause great problems for lower-attaining pupils, and greater problems still for children who do not have a full education in France, including immigrant children and many French-speaking children educated in English schools.
Paradoxically, English children's problems also begin with French. The 150 years following the Norman conquest brought an influx of French that continued over centuries to the point at which roughly a third of English words are derived from French rather than Anglo-Saxon. These words retain their French spelling, but not their French pronunciation, disrupting phonic regularity in common words such as table, and introducing features such as the "soft" c and g in city, centre, cycle, and energy, gin and gentle. As children meet these words in reading, they have to adjust their first conception of sound-letter correspondences, a process that comes easily to some, but that can be very difficult, and often impossible, if the basic connections are not established in the first place. The problems caused by the French influx are compounded by further complications, including the great vowel shift, the influence of dictionaries, and the change in pronunciation of -ed in the simple past tense of most verbs, much lamented by Jonathan Swift. These changes are set out in detail in David Crystal's Spell It Out. The process of mastering them is entirely consistent with Professor Dehaene's description of children restructuring their thinking when they meet a problem that it won't solve, with his analysis of patterns of development in artificial intelligence and with the revolution in thinking caused by Galileo's observation of movement in the moons of Jupiter.
Much of the evidence collated by Professor Dehaene has been available for some time, notably in The Learning Brain (Sarah-Jane Blakemore and Uta Frith, FRS) and In Search of Memory (Eric Kandel). Kandel won the Nobel prize in 2000 for his work on the development of new connections in cells, which shows repetition leading to new growth, much like buds on a tree, and the process of myelinsation, in which coatings of myelin are applied to connections by specialist cells, speeding up connections, has been filmed in rats. Its application to education in schools, however, remains problematic. Many university departments of education base their work on sociological evidence that shows correlation of high attainment with social class, and see evidence of brain development as incidental. This neglect is cutting off the next generation of teachers from the knowledge that will enable them to be of greatest benefit to their pupils, and is an example of ignorance, backed by spurious intellectual authority, that Galileo might have recognised.
Professor Dehaene's book makes his knowledge available, in plain language, to anyone who will take the time and trouble to read it. It is not an easy task – it took me a week – but anyone who does so will see why the successful parts of their current practice work, and perhaps also why other parts don't. His view of schools is not always consistent, praising them early in his book for being attuned to children's difficulties, while later demonstrating that, in some respects, they are not. His emphasis on active engagement, on th need for children to pay much closer attention to their teacher, and to be taught to pay close attention, supports many current developments, ranging from the idea of "sustained shared thinking" in early years, to the emphasis on schools such as Michaela, West London Free School, and Great Yarmouth Charter Academy, on insisting that children "track" the teacher. If they do not pay close attention, says Professor Dehaene, they will not learn, and it is an error, promulgated by a range of progressive educators, including Thomas Dewey, to think that they can work things out for themselves. It also follows that schools that tolerate low-level disruption are interfering with thinking in a way that prevents learning from taking place. Clear explanation, close attention, and practice, are essential.
LS Vygotsky's Thought and Language (1962), smuggled out of Russia and published by MIT thirty years after its author died in a Stalinist jail, revolutionised our understanding of early language development and the process of transition to literacy. It is consistent with all subsequent evidence, including Professor Dehaene's. This book is equally important, and we can only hope that it will come to be understood, and to have as much or more influence.